Run and Walk for Life 2017
Run & Walk for Life 2017
Supporting those affected by Cancer in the South East
Join the sea of orange for Solas Cancer Support Centre
A sea of orange is set to hit the streets of Waterford on October 8th for the ninth annual Solas Cancer Support Centre Run and Walk for Life, supported by event partner Datapac and media partner Beat 102 103.
Whether you want to walk the 5 mile route or run the full 10 miles, there's an opportunity for all the family to get out and raise vital funds for a very important service.
It kicks off at Gladstone Street, and as always finishes in the People's Park with the 'Fun for Life', a family fun event for those waiting to cheer you over the finish line, hosted by media partners Beat 102 103.
Dr Brian Creedon, Chairman of the Solas Cancer Support Centre said: "Last year over 2,000 participants took part and this year we are aiming to exceed this number and have one participant for every one person diagnosed with cancer each year in the South East. I would encourage people to participate in either the 10-mile run or the 5-mile family walk, as it is always an inspiring event to be part of. We are extremely thankful to our event partners, Datapac and Beat who are so loyal in their continued support and also the hard-working Run and Walk for Life voluntary committee who give such much of their valuable time and expertise to this event every year."
The Solas Cancer Support Centre opened its doors six years ago and is entirely funded by donations and fundraising activities like the Run and Walk for Life. Services are free and open to people in the south east that are directly affected by cancer, their families and carers. The Solas Cancer Support Centre is supported by over 70 volunteers, 25 counsellors and therapists, five community employment scheme workers and four staff members (one full time and three part-time).
Get planning and training now and join the sea of orange on Oct 8th at this year's 10-mile Run and 5-mile Walk for Life. There is a distance and pace for everyone!
Sponsorship cards are available from the Solas Cancer Support Centre, Williamstown, Waterford City, the Beat 102 103 studios, the Broadcast Centre, Ardkeen, Waterford City and all AIB Branches in the South East.
For further information contact the Solas Cancer Support Centre on 051 304 604 or check out the 'Solas Centre South East Run and Walk for Life' Facebook page.
The Run and Walk for Life proudly supported by Datapac and Beat for the Solas Cancer Support Centre.
Take part in the 10 mile road race or 5 mile family walk. Complete the form below to register your interest and receive your sponsorship card. Thank you for your support.
Run for Life Registration
Returning Sponsorship Money and Collecting Your Race pack
We appreciate every cent that you raise for us, however due to the large volume of people registering; we have a difficulty handling coins.  If at all possible, can we ask that you bring, Cash, Cheques, Bank Drafts or Postal Orders on registration Days. Please make all Cheques, Bank Drafts and Postal Orders payable to The Solas Cancer Support Centre.
Returning your Sponsorship
You can return your Sponsorship Card and money to The Solas Cancer Support Centre, Williamstown in Waterford on the dates and times shown below.
| | |
| --- | --- |
| Thursday, 5th October | 10am – 7pm |
| Friday, 6th October | 10am – 7pm |
| Saturday, 7th October | 10am – 4pm |
No Registration on Race Day
This will be a secure environment where our team will collect your contribution, issue you with a receipt and give you your Race Pack.  The race pack will contain your Run for Life T-Shirt, race number, timing chip, safety information and some goodies.
For anyone travelling long distances to the event or those who cannot bring their cards/sponsorship on the days outlined above, please contact the Solas Cancer Support Centre on info@solascentre.ie or call Ann Marie on 051-304604.  We will be happy to arrange an alternative Run for Life registration that will suit your needs i.e. personalised individual/group registration time, postal registration or register donations online and collect your race pack on the event day.  
We want to ensure our registration process is as easy as possible for all our supporters!
Run for Life Client Stories
O' Donovan's Story
During Christmas 2015 my wife Joyce found a lump in her breast. Upon attending her GP, she was subsequently referred to the Breast Cancer Centre in UHW as a precaution. Joyce has a mammogram, followed by an Ultrasound and a biopsy.
One week later in late January, we got the results and our families lives were turned upside down.   Joyce was diagnosed with Breast Cancer – "The Big C". At a consultation with our oncologist, she advised me to take my wife Joyce to the Solas Cancer Support Centre, today, which was a Friday and not to wait till Monday. As you can imagine our minds were not in a good place. At this stage Joyce was unsure about talking to anybody, but these words kept ringing in my ear "take her today".
The moment we arrived at the Solas Cancer Support Centre and opened the door, there was a feeling of calmness, peacefulness and a sense of hope, that all will be ok. Even though we had no appointment made, we were still seen to straight away in a very professional and sensitive manner. We were taken into a lovely private room and there we met with one of the Solas team. During this time she explained to us what work is carried out at the centre and reassured us that we were not alone in this battle ahead. Having listened to all the services and help that was available in the centre, we felt very positive about the whole situation. I asked how we pay for these services and she told me to focus on getting Joyce better. The services were free to both of us as well as our 3 year old girl Amy and all our extended families. At this stage, we felt very hopeful. It felt like they got us and where we were coming from. The range of services offered, can and does provide light.   Appropriately their name is termed "Solas" –the Irish for light.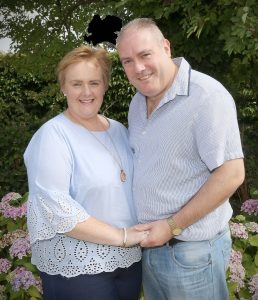 We made appointments there and then to avail of the reflexology and counselling services. We left the Centre that day with a huge sense of hope for the future. To us, that day the Solas Cancer Support were lifesavers.
Joyce had to go through chemotherapy, surgery and then radiotherapy. All the time during this, she availed of some of the services the centre had to offer as did Amy and I and other members of the family. This support helped all of us immensely through this difficult time.
In October 2016 we both completed the 5 mile "Walk for Life", to which I am so proud of Joyce. In April 2017, I had the privilege of taking part in the "Dance for Life" event, which I thoroughly enjoyed.
I am pleased to report Joyce is doing really well, thanks be to God, and I am under no illusions that the Solas Cancer Support Centre was an interigual part of Joyce's recovery.
Joyce, Amy and I continue of avail of the services provided by Irelands finest purposed built Cancer Support Centre. I would encourage everyone to come along and partake in the Run and Walk for Life on October the 8th 2017 and help these lifesavers continue their great work.
Run and Walk for Life 2017 Launch