Run and Walk for Life 2017
Run & Walk for Life 2017
The Streets Awash with Orange for the Solas Cancer Support Centre
Participants of all ages, young and old , took part in the record breaking annual Solas Cancer Support Centre Run and Walk for Life on Sunday 8th October
The event was officially started by Cllr Pat Nugent , Mayor of Waterford City and County , where he wished all participants an enjoyable day as they helped raise vital funds for this important service.
Over 2,600 people took part on the day, which started along the Quay in the City and finished in the Peoples Park where participants crossed the finish line after completing a challenging 10 mile run or had taken part in the highly enjoyable 5 mile family walk.
Conditions on the day were deemed perfect and the Peoples Park was filled with family and friends waiting to welcome participants across the finish line and enjoy the Fun for Life.
Dr Brian Creedon, Chair of the Solas Cancer Support Centre said: "The atmosphere on the day was electric and the 2017 Run and Walk for Life was a huge success. This is the largest fundraising event of our calendar and we are so appreciative of the efforts made by all that took part in raising funds for our services. We are extremely thankful to our event partners, Datapac and Beat who are so loyal in their continued support and also the hard-working Run and Walk for Life voluntary committee who give such much of their time and expertise to this event every year."
The Solas Cancer Support Centre opened its doors six years ago and is entirely funded by donations and fundraising activities like the Run and Walk for Life. Services are free and open to people in the south east that are directly affected by cancer, their families and carers.
Run for Life Client Stories
O' Donovan's Story
During Christmas 2015 my wife Joyce found a lump in her breast. Upon attending her GP, she was subsequently referred to the Breast Cancer Centre in UHW as a precaution. Joyce has a mammogram, followed by an Ultrasound and a biopsy.
One week later in late January, we got the results and our families lives were turned upside down.   Joyce was diagnosed with Breast Cancer – "The Big C". At a consultation with our oncologist, she advised me to take my wife Joyce to the Solas Cancer Support Centre, today, which was a Friday and not to wait till Monday. As you can imagine our minds were not in a good place. At this stage Joyce was unsure about talking to anybody, but these words kept ringing in my ear "take her today".
The moment we arrived at the Solas Cancer Support Centre and opened the door, there was a feeling of calmness, peacefulness and a sense of hope, that all will be ok. Even though we had no appointment made, we were still seen to straight away in a very professional and sensitive manner. We were taken into a lovely private room and there we met with one of the Solas team. During this time she explained to us what work is carried out at the centre and reassured us that we were not alone in this battle ahead. Having listened to all the services and help that was available in the centre, we felt very positive about the whole situation. I asked how we pay for these services and she told me to focus on getting Joyce better. The services were free to both of us as well as our 3 year old girl Amy and all our extended families. At this stage, we felt very hopeful. It felt like they got us and where we were coming from. The range of services offered, can and does provide light.   Appropriately their name is termed "Solas" –the Irish for light.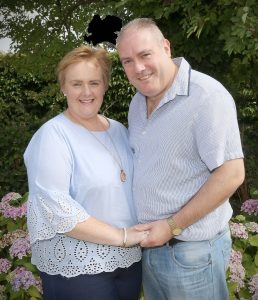 We made appointments there and then to avail of the reflexology and counselling services. We left the Centre that day with a huge sense of hope for the future. To us, that day the Solas Cancer Support were lifesavers.
Joyce had to go through chemotherapy, surgery and then radiotherapy. All the time during this, she availed of some of the services the centre had to offer as did Amy and I and other members of the family. This support helped all of us immensely through this difficult time.
In October 2016 we both completed the 5 mile "Walk for Life", to which I am so proud of Joyce. In April 2017, I had the privilege of taking part in the "Dance for Life" event, which I thoroughly enjoyed.
I am pleased to report Joyce is doing really well, thanks be to God, and I am under no illusions that the Solas Cancer Support Centre was an interigual part of Joyce's recovery.
Joyce, Amy and I continue of avail of the services provided by Irelands finest purposed built Cancer Support Centre. I would encourage everyone to come along and partake in the Run and Walk for Life on October the 8th 2017 and help these lifesavers continue their great work.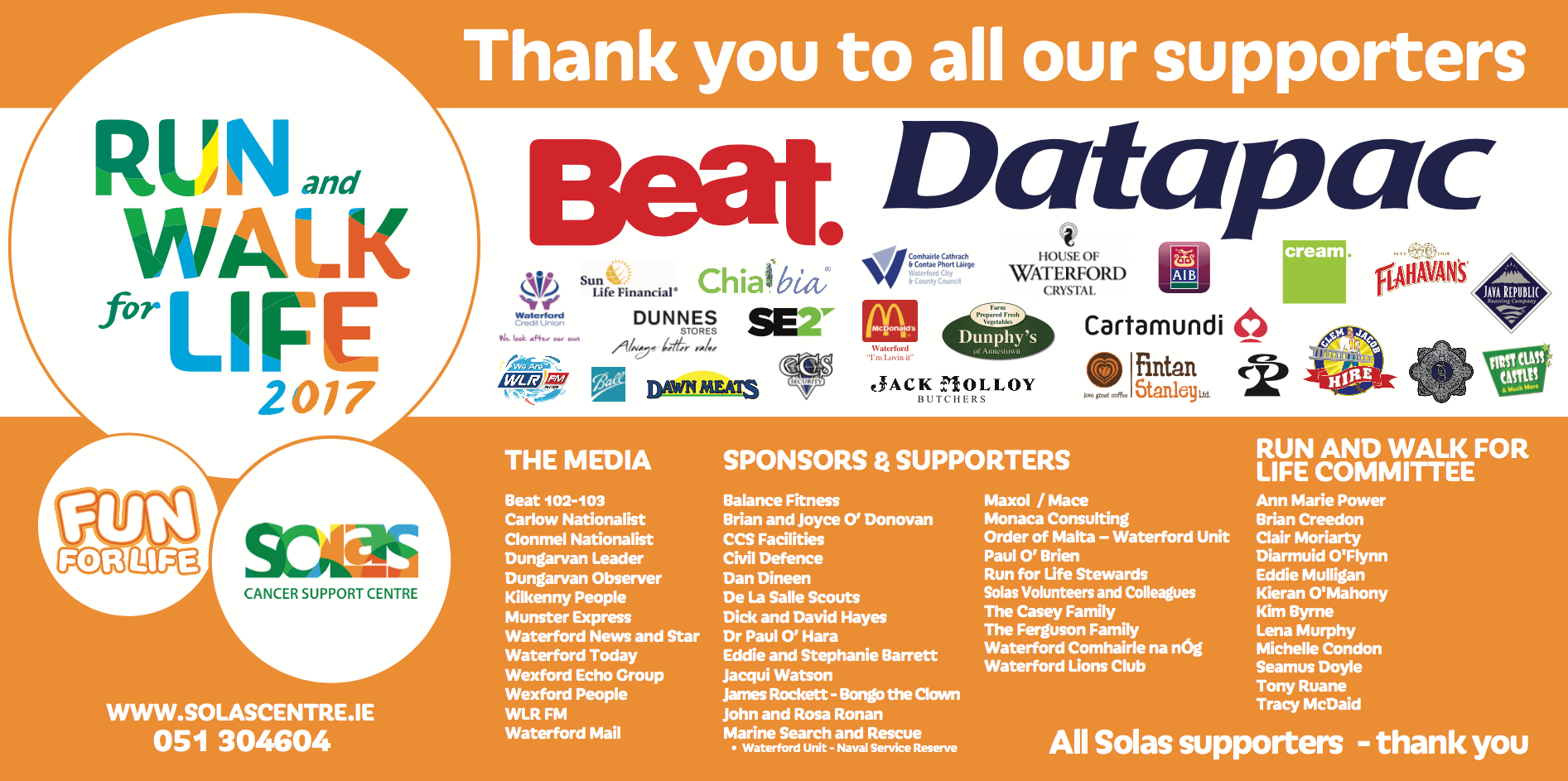 Run and Walk for Life 2017 Launch